In Vitro Toxicology Services
ImQuest BioSciences offers a panel of primary cell based in vitro toxicity assays to evaluate the off-target effects of pharmaceutical products. These assays predict the toxicity of compounds and can identify potential safety and drug development problem prior to in vivo safety and toxicology evaluations. ImQuest's cytotoxicity evaluations are performed with a cell types representative of the major functional organ and immune systems and utlized to assess the effects of test compounds on cell viability, cell proliferation and macromolecular synthesis.
Validated Primary Cell Toxicity Panel
Peripheral blood mononuclear cells (PBMCs)

Monocyte-macrophages

Dendritic cells

Bone marrow progenitor cells

Primary hepatocytes

Induced pluripotent stem cell (iPS)

Cardiomyocytes

iPS neurons

Renal proximal tubule cells (RPTEC)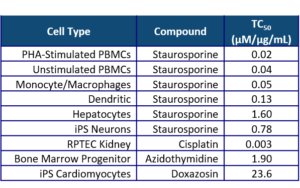 Other primary cell types are available upon request and may require pilot assays to determine optimal viability endpoint. Cell line based screening is also available.
Mechanism of Toxicity Assessments
Mechanism of cytotoxicity assays can also be assessed to evaluate the effect of test compounds on the cell cycle, mitochondrial respiration and function, apoptosis, membrane integrity and oxidative stress. These assays are used to analyze the predominant areas where a test compound may exert an adverse effect. Additional assays may be used to explore effects on cellular kinases, growth factors and signal transduction pathways.
Contact Us to learn more and to request a quote for Toxicity Services.